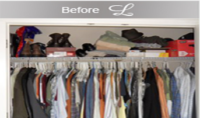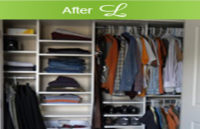 Do not Hesitate, Get rid of Your Clutter Today with Organized by L
Day after day, the first thing you see and the last thing you see is your closet. Why not start your day by easily locating your clothes in an organized, systematic closet.  Many closets are not designed to fulfill the needs of the homeowner. A closet makeover will make use of wasted space and maximize the overall space turning it into your custom designed space, specifically tailored to your clothing and space constraints.
We will start by evaluating all items in your closet.  Once the remaining inventory is sorted, we will measure and discuss "how you use your space". Yes, you store your clothing and accessories in your closet, but several questions need to be answered.  For instance, do you wear professional clothing to work or is your dress code more casual; do you like to hang your pants long or do you fold them over the hanger; do you have several pairs of shoes that are visible or are they stored in boxes, etc, etc. etc.
You should also consider your space constraints. We expand to the amount of room we have, but so many people have so much clothing that they can't even see the clothing they have. If you don't see it, you will have difficulty remembering that you have it.