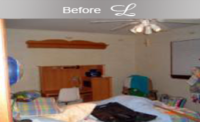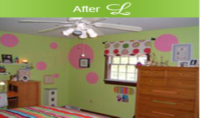 We Offer Decorating Services Too!
When you decide to make a change in your life, getting organized is one aspect of making a change in your life.  While organizing things, a facelift may help improve the space even more. Part of that facelift may involve painting, moving furniture and rearranging or bringing in items that add to the final look.
Organized by L can assist you with those decorating needs. Sometimes a new accessory or two can add the zing that was needed. Redecorating is another term we use to simply rearrange your belongings to improve the flow. A fresh set of eyes can see something in your room that you are overlooking.  In addition, we can create a simple window treatment and coordinating pillows to complete the look of a room.
Some people have a knack for decorating. Ellen has that knack.